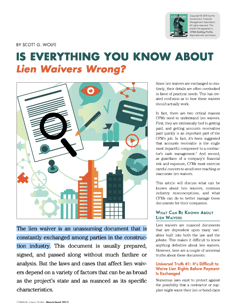 Published in CFMA's Building Profits Magazine in the March/April 2015 issue, this article examines the review, preparation, exchange, and risks of lien waivers.
Since lien waivers are exchanged so routinely, their details are often overlooked in favor of practical needs. This has created confusion as to how these waivers should actually work.
This article discusses what can be known about lien waivers, common industry misconceptions, and what construction financial managers can do to better manage these documents for their companies.
Learn:
The Universal Truths about Lien Waivers
Where pre-work and pre-payment lien waivers are illegal
Which states have statutory lien waiver forms
Common misconceptions about lien waivers
How you can improve your company's lien waiver process
---
About the author
Scott Wolfe, J.D.
Scott Wolfe Jr., a thought leader in the construction industry, combines his construction background, tech experience, entrepreneurial spirit, and legal education to bring a unique perspective to the industry's construction payment problem.
Scott is the founder of zlien, a venture-backed construction payment platform. A licensed attorney in six states, his writing has appeared in the New York Times, CFMA's Building Profits, Supply House Times, Construction Executive, and tED Magazine. He has been a Keynote Speaker for the American Subcontractors Association annual conference, and speaks regularly about construction payment challenges, legal and financial risk, and technology.