Secure Payment on Every Project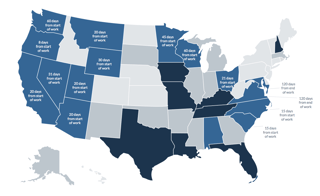 Preliminary notice requirements vary from one state to the next. This creates challenges, particularly for construction companies that perform work in multiple states, companies that provides work on both public and private projects, or companies that occupy different roles depending on the project.
Sending required notices is key to securing mechanics lien rights. So while it can be tough to remember the state-specific nuances that necessitate the sending of a preliminary notice in a given state, it is extremely important to prevent required notices from falling through the cracks.
zlien has created a straightforward infographic that simplifies notice requirements, so you can determine at a glance whether or not notice is required in order to secure mechanics lien rights for private projects in all 50 states. The infographic also includes the deadline to send a notice.