Subscribe To Weekly Curated Articles
Stay On Top of Most Compelling Web Content Related To Construction financial managers.
Join the community of over 30,000 construction financial managers and subscribe to the weekly Construction Financial Manager (CFM) Review.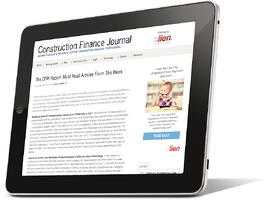 The CFM Review is delivered to you every Friday and contains a selection of in-depth articles from the week that we think are worth your valuable time as a construction financial manager (CFM).
We look for compelling articles not only about financial topics, but about business, technology, and life, that challenge you to think about your role as a CFM in different ways.
Get articles like these and more when you subscribe:
Why The Innovative CFM Will Win In The Recovering Economy
Firms Need Millenials Now More Than Ever
Obama's SupplierPay Program Fails The Construction Industry
Kimberly-Clark Finance Chief Tells Staff: Think Like A CFO
Complete the Form to Subscribe by Email Today